Chiang Mai is not a complicated city to navigate. There are clear landmarks that help guide you to where you need to go, and of course there is the mountain to orient you. Public transportation is an issue that this city has been trying to tackle for many years, but beyond some unreliable bus routes, nothing better has been implemented. If you don't have your own vehicle, you'll most likely use one of the variations of taxis.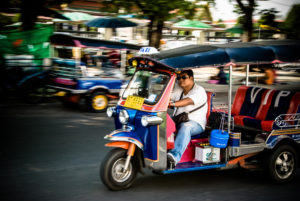 Most straight forward is the "Taxi Meter". There's a counter inside the vehicle which determines the fair, as is common in many western countries. However, you'll have a higher likelihood of flagging down a "Songtaew" (Red Bus) or a "Tuk Tuk". With both of these it is strongly recommended that you negotiate the price before setting off. The Songtaews are generally cheaper than the Tuk Tuks but that's because they may pick up other passengers and make multiple stops. Tuk Tuks will only fit 2 passengers, but they won't shy away from trying to fit more.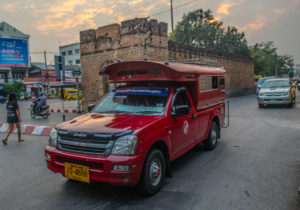 If you are on holiday in Chiang Mai, you should be aware that many tours offer free pick up and drop off at your hotel, this is almost standard for day trips that take you outside the city. They will either hire a Songtaew for the day (which you can also do if you are arranging your own tours) or they use minivans.
Another very popular means of getting around in Chiang Mai is renting a small motorbike, but that will be a topic for a future post!