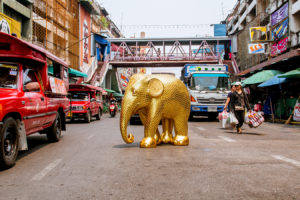 Elephant Parade is coming home to the streets of Chiang Mai. Elephant Parade is a public art exposition featuring elephant statues by famous artists and celebrities. Previously, Elephant Parade has visited places around the world, including USA, Germany, France, the Netherlands, Singapore, Hong Kong and more, but Chiang Mai is the birthplace of the concept, which makes this occasion a special one.
"Chiang Mai is a very special place for Elephant Parade as it is near the home of Mosha, the baby elephant that lives here and inspired the Elephant Parade story. Today, the city is also our global operating headquarters. Many of our elephant statues are created by local Thai artists or inspired by Thailand's rich culture. Home is where the heart is – this parade will have a very bespoke, intimate and welcoming air to its celebrations. We are highlighting our favourite spots across the city with the Elephant Parade Guide to Chiang Mai, a free booklet."

– Mike Spits, Elephant Parade Founder
Mike Spits found the baby elephant, Mosha, with a severely injured leg resulting from a land mine. Usually with cases like these, this elephant would never be able to walk again, but with Mike's help, Mosha received the first prosthetic leg fitted for an elephant. To continue support for Mosha and more elephants in need, Mike started Elephant Parade. Mosha continues to be a symbol of inspiration and a strong message of Elephant Parade's values to protect elephants. The exhibit in Chiang Mai will have a special statue of Mosha with a prosthetic leg.
The Elephants Parade exhibition will take place throughout Chiang Mai from December 9 to January 15. There will be at least 70 painted elephants. Stay tuned on where to find them. For more information, visit the Facebook page or the website.
Photo Gallery