Wat Phra That Doi Suthep (or Wat Doi Suthep for short) is located near the top of Suthep Mountain giving you some impressive views over Chiang Mai. The temple's construction first begun in 1383 and the road up the mountain to the temple was built in 1935.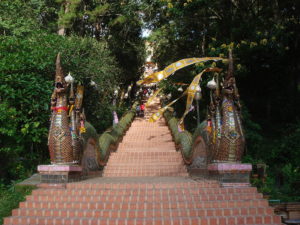 Legend has it that a white elephant carrying a mythical piece of bone led a monk up the mountain and designated the spot for the temple to be built.
To get to the temple you can do so by car and you'll find plenty of taxis going up this way. At the temple itself you can venture up the 300+ steps to reach the pagodas or take a tram. Personally I would take the tram up and the steps down at least once, just so you've done it.
Inside the temple there are many statues, bells, a museum and shrines. Visitors are expected to dress respectful and remove footwear inside the temple grounds.